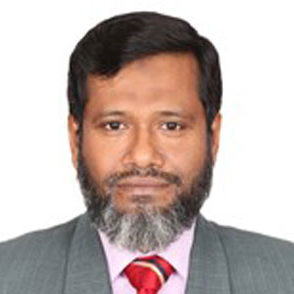 Dr. Khan Md. Tariqul Alam
Assistant Professor
Post Doc (Shinshu, Japan),PhD (Gifu, Japan),
MS in Change Mgt (Shinshu, Japan)MSS, BSS Hon's in Econ (Rajshahi)
Room # 812   Ext # 177
Cell : 01763771249, 01937917603
E-mail : drtariqul.alam@iubat.edu
Specialization: Advance Economics, Managerial Economics, Agricultural Economics and Farm-Firm Management
Dr. Khan was a Post Doc Fellow in the Graduate School of Agricultural Science in Shinshu University, Japan. He persuaded PhD degree therein the United Graduate School of Agricultural Science in Gifu University, Japan. Prior of his PhD degree he conducted research for MS degree in Agricultural Economics and Farm Management in Shinshu University. He worked to develop some motivational tools for enhancing "Regional Agricultural Reform" therein Iijima-machi in Japan. For this reason, he continued his study on Toyota Management System, Panasonic Management System and the Management System of some other potential Manufacturing organization for enumerating some possible motivational tools to apply in agricultural farming reform.
He worked on Knowledge Conversion method, Change Management approach, and Change leader approach, etc. to develop Trust-Building and Brain-Storming. He was a former student of Rajshahi University under the Department of Economics and successfully accomplished MSS, BSS degree with Honors in Economics. During Graduation he studied Mathematics and Statistics as subsidiary courses. His research and formal education allows him in the field of Advance Economics, Managerial Economics etc. He has about ten academic articles in his credit, which were published in different wide-sphere reputed journal in home and abroad. Side by side of formal academic chapter he persuaded diploma on three co-curricular activities on Bloom's Taxonomy, Research Methodology and Education Planning.
He has quite job experience in some national NGOs and in industrial production and management level working in a reputed group of industries. During studentship tenure in Japan, he engaged in some part-time working like NTN Bearing Industries, NITTSU, Toyota and Panasonic sister-industries, etc. Prior joining in IUBAT University he was an Assistant Professor (Adjunct) in East West University. Side by side of a Senior Lecturer in ASA University, he was assigned to the position of the Member Secretary of the Proctorial Body.