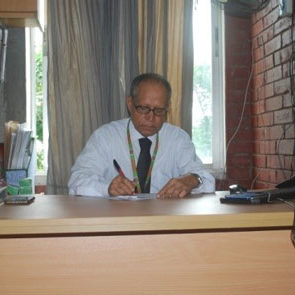 Muhammad Shahjahan
Professor & Coordinator
MS in Agri Econ (NMSU, USA)
MA, BA Hons in Statistics (DU)
Room # 231 Ext # 258
E-mail : shahjahan@iubat.edu
Muhammad Shahjahan hails from Kutubdia, an island in the District of Cox's Bazar. He had his high school and college education from Chittagong Collegiate School and Chittagong Government College respectively.  Also he had his B.A. Honors and M. A. in Statistics from Dhaka University. Afterwards he served Bangladesh Agricultural Research Institute (BARI) at different capacities from Scientific Officer (SO) to Chief Scientific Officer (CSO).
During his service at BARI he had his MS in Agricultural Economics from New Mexico State University, USA enjoying World Bank Scholarship. While at BARI he was engaged in research, planning and evaluation work. He got 13 publications to his credit during his stay at BARI. While in Government Service, he had to present seminars at Institute Head Quarters, Ministry of Agriculture and Indonesia on organizational matters relating to research, planning, monitoring and evaluation.
Muhammad Shahjahan joined IUBAT in the year 2008. He has a long 11 years teaching experience at IUBAT. During his tenure at IUBAT, two of his research papers have been published in IUBAT journals.