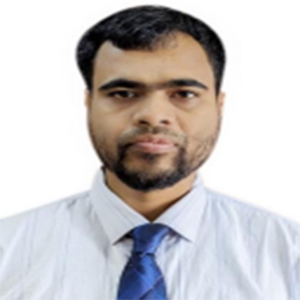 Dr. Md. Jahidul Islam
Assistant Professor
Ph.D. (Japan), MS, BSc (DU)
Room # 1113 Ext # 305
E-mail: jahidul.che@iubat.edu
Biography
Dr. Md. Jahidul Islam, Assistant professor in department of Chemistry, hail from Rupganj, Narayanganj. He completed his Bachelor (1st class) and Master (1st class 2nd position) degree from the Department of Chemistry, Dhaka University. He was awarded MEXT (Ministry of Education, Culture, Sports, Science and Technology, Japan) Scholarship to obtain the Ph. D. degree from Japanese University. He received his Doctor of Philosophy (PhD) degree in Chemistry from Hokkaido University, Japan in September, 2019. Dr. Jahidul has versatile field of working experience in the field of academy, industry, and research; in public as well as private and in international arena. He worked in –Bangladesh International Tutorial, teacher; Bangladesh International School and College(BISC), lecturer; Institute of Fashion Trade and Technology, adjunct faculty member; BCIC, Assistant Chemist (9 th grade officer); Institute for Chemical Reaction Design and Discovery (ICReDD), Hokkaido University, Japan, Postdoctoral fellow, Ahsanullah University of Science and Technology, adjunct faculty member; BCSIR, Postdoc Fellow; Bangladesh Forest Research Institute, Research consultant. He joined as assistant professor at IUBAT in the Department of Chemistry. He has multi-disciplinary field of research focusing on – Photo functional molecules, Crystallography, Circularly polarized luminescence, Nanoparticles, Agarwood, Functionalization of cellulose, Laser trapping. Dr. Jahidul has more than six publications in several peer review journals.
List of publications
1. Md Nahid Hossain, Masud Chowdhury, Md Jahidul Islam and Tajmeri SA Islam. Analysis of the properties of ZnO nanoparticle for emerging applications in nano scale domains. In 2013 IEEE 56th International Midwest Symposium on Circuits and Systems (MWSCAS), pp.928- 931. IEEE, 2013. DOI:10.1109/MWSCAS.2013.6674802
2. Kenichi Yuyama, Md Jahidul Islam, Kiyonori Takahashi, Takayoshi Nakamura and Vasudevanpillai Biju. Crystallization of methylammonium lead halide perovskites by optical trapping. Angewandte Chemie, 130(41), 2018:13612-13616.
3. Md Jahidul Islam, Ken-ichiYuyama, Kiyonori Takahashi, Takayoshi Nakamura, Katsuaki Konishi, and Vasudevanpillai Biju. Mixed-halide perovskite synthesis by chemical reaction and crystal nucleation under an optical potential. NPG Asia Materials,11(1),2019:1-7.
4. Md Jahidul Islam, Md Shahjahan, Ken-ichi Yuyama and Vasudevanpillai Biju. Remote Tuning of Bandgap and Emission of Lead Perovskites by Spatially Controlled Halide Exchange Reactions. ACS Materials Letters, 2(4), 2020:403-408. CV of Dr. Jahidul 3
5. Yuichi Kitagawa, Satoshi Wada, Md Jahidul Islam, Kenichiro Saita, Masayuki Gon, Koji Fushimi, KazuoTanaka, Satoshi Maeda, and Yasuchika Hasegawa. Chiral lanthanide luminoglass for a circularly polarized light security device. Communications Chemistry, 3(1), 2020:1-5.
6. Ken-ichi Yuyama, Md Jahidul Islam, and Vasudevanpillai Biju. Spatio-temporally-controlled synthesis of lead halide perovskite crystals by laser trapping. Optical Manipulation and Structured Materials Conference 2020. Vol. 11522. International Society for Optics and Photonics, 2020. DOI.10.1117/12.2573760
7.Md Jahidul Islam, Yuichi Kitagawa, Makoto Tsurui and Yasuchika Hasegawa. Strong circularly polarized luminescence of mixed lanthanide coordination polymers with control of 4f electronic structure. Dalton Transactions, 2021, 00(1), 1-4.
8. Teng Zhang, Yuichi Kitagawa, Ryoma Moriake, Pedro Paulo Ferreira da Rosa, Md Jahidul Islam,Tomoki Yoneda, Yasuhide Inokuma, Koji Fushimi, Yasuchika Hasegawa. Hybrid Eu(III) Nano-luminophore Standing on Silica Nanoparticles By Two Legs for Enhanced Luminescent Properties. Chemistry-A European Journal, 2021,27(58), 14438- 14443.
9. Yasuchika Hasegawa, Yuichi Kitagawa, Md Jahidul Islam. Human cancer GPS: Medical application of structure-changeable luminescent Eu(III) complex for brain tumor diagnosis (Nature Scientific Report)
Thesis papers
1. Spatially-and temporally-controlled synthesis and modification of lead halide perovskites by laser trapping. Doctoral Dissertation. Md Jahidul Islam, Ken-ichiYuyama and Vasudevanpillai Biju, Hokkaido University, 2019. DOI. 10.14943/doctoral.k13749
2. Preparation and investigation of photo catalytic properties and anti-bacterial activities of ZnO nanoparticles and effect of various parameters on kinetics of degradation. MSc. dissertation, Department of Chemistry, University of Dhaka, Bangladesh, 2012. Supervisor Prof. Tajmery SA Islam.
3. Kinetic study of Hydrolysis of Clonazepam in acidic and alkaline medium. BSc. Honors final year project dissertation, Department of Chemistry, University of Dhaka, Bangladesh, 2009. Supervisor- Prof. ABM Susan.
Conferences, Seminars and Presentations at national and international level
1. Spatio-temporal formation of protein amyloids by laser trapping and fluorescence analysis of its dynamics (poster); Md Jahidul Islam, Ken‐ichi Yuyama, Katsuaki Konishi, Vasudevanpillai Biju. Faculty of Environmental Science, Hokkaido University, Japan. 2017.09.05
2. Optical trapping of methylammonium lead halide precursors at solution surface leading to crystallization (poster); Md Jahidul Islam, Ken‐ichiYuyama, Katsuaki Konishi, Vasudevanpillai Biju. Faculty of Environmental Science, Hokkaido University, Japan. 2018.03.02 CV of Dr. Jahidul 4
3. Crystallization of mixed chloride-bromide methylammonium lead perovskites by optical trapping at solution surface (poster); Md Jahidul Islam, Ken‐ichi Yuyama, Katsuaki Konishi,Vasudevanpillai Biju. Annual Meeting of Japanese Photochemistry Association, Kwansei Gakuin University, Nishinomiya, Osaka, Japan. 2018.09.07
4. Spatially-selective anion exchange reaction of lead halide perovskites by optical trapping (poster); Md Jahidul Islam, Kenichi Yuyama, Katsuaki Konishi, Vasudevanpillai Biju. Faculty of Environmental Science, RIES, Hokkaido University, Japan. 2019.09.23
5. Mixed halide lead perovskite single crystals prepared by optical trapping at solution surface (poster); Md Jahidul Islam, Ken‐ichiYuyama, KatsuakiKonishi, Vasudevanpillai Biju. Toukiken, Hokkaido University, Sapporo, Japan. 2019.01.23
6. Crystallization and bandgap tuning of methylammonium lead halide perovskites by laser trapping (poster). Md Jahidul Islam, Ken-ichiYuyama, Vasudevanpillai Biju. Yuichi Kitagawa, Yasuchika Hasegawa; ICReDD 2nd international symposium. Hokkaido University, Japan. 2019.10.23
7. Luminescent materials for future photonics (oral); Md Jahidul Islam, Yuichi Kitagawa, Yasuchika Hasegawa. ICReDD (Needs/Seeds) seminar, Hokkaido University, Japan. 2020.06.24
8. Circularly polarized luminescence studies of the mixed lanthanides coordination polymer with pi-f interaction (oral-online); Md Jahidul Islam, Yuichi Kitagawa, Yasuchika Hasegawa. Annual Meeting of Japanese Photochemistry Association, Hokkaido University, Japan. 2020.09.03
9. Whole-tree agarwood-inducing technique: an efficient novel technique for producing high quality agarwood in cultivated Aquilaria Sinensis trees (oral-literature review). Md Jahidul Islam, Dr. Mohammad Jakir Hossain. Development of an Improved Agarwood Inoculation Technique Project, Bangladesh Forest Research Institute (BFRI). 2022.06.20
10. Shape-controlled synthesis of metal nanocrystals: simple chemistry meets complex physics? (oral-literature review). Md Jahidul Islam, Dr. Mohammad Jakir Hossain. Development of an Improved Agarwood Inoculation Technique Project, Bangladesh Forest Research Institute. 2022.08.25