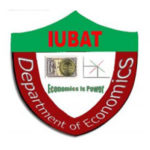 Department of Economics
The Department of Economics, under the College of Arts and Sciences of IUBAT, offers a degree program in Economics, provides courses in economics under the general education module of other colleges of the university, conducts research and organizes seminars, workshops and training on emerging economic issues. Educational programs of the Department also receive support from other departments and colleges of the university to realize its objective of developing manpower in the field of economics as well as making contribution to solution of economic problems faced by the country. Students and faculties of the department have access to all facilities of the university including extensive use of IT facilities provided by the Computer Education and Training Centre (CETC) for training and research.
Mission
To produce professional graduates with foundation in mathematics, adequate knowledge in the fields of economics, analytical skills, critical thinking and decision making skills, problem solving ability, team work spirit and effective communication skill by disseminating expert knowledge and research skill so that they can meet the socioeconomic needs of 21st century.
Vision
To produce outstanding economists who can independently understand and critically analyze the global and national emerging economic issues and contribute to sustainable growth of the economy through research and application of advance knowledge.
Brief Description of
Bachelor of Arts in Economics program
To receive a Bachelor of Arts in Economics, a student must complete successfully at least 125 credit hours study. The student must satisfactorily complete courses as specified by the following requirements.
A core of theoretical courses in economics and related subjects. All economics students are expected to complete successfully this group of courses. A set of elective economics courses. Students must select and complete at least six of these courses. Students may well choose to complete more than the required minimum number. A set of courses in other Arts and Science departments. These courses assure that students obtain a satisfactory mastery of oral and written English, and of mathematics. These courses also expose students to ideas in physical science and the humanities.
A set of courses in other colleges. These courses assure that economics students appreciate the practical problems associated with agriculture and business. They also allow students to develop an understanding of basic computer technology.
There are a number of job opportunities for graduates of economics at the intersection of arts, science, and math. The most important aspect that graduates of economics are good at is the ability to guide people…
Being an economist is not the only job for the graduates of economics; there are a wide range of job opportunities for them. The graduates of economics can work in a variety of sectors including private and government offices, banking and insurance companies and varieties of industries.
Student advising and counselling
Course wise consultation hours
TA support
Career development training
Grooming