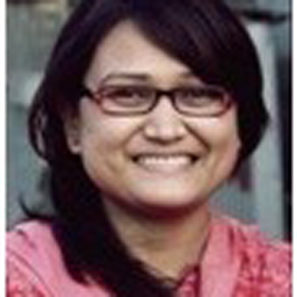 Kaniz Kakon 
Assistant Professor & Coordinator
MA (JU), BA Hons in Philosophy (JU)
Room # 412   Ext # 124
E-mail: kanizkakon@iubat.edu
Kaniz Kakon is a Faculty in the Department of Philosophy at IUBAT. This department is under the College of Arts and Sciences of this University. She has completed her Graduation (BA hons.) and Post – graduation (MA) in Philosophy from Jahangirnagar University, Savar, Dhaka. Before joining at IUBAT she worked as a lecturer at Bangladesh University, Dhaka in the Department of EEE. Over there her main teaching specialization was in "Professional Ethics". She is very much interested in Philosophical researches.
MA (JU)
BA Hons in Philosophy (JU)
PHI 114: Introduction to Philosophy (Credit hours per week: 3)
ART 102: Educational Planning (Credit hours per week: 1)
Published Paper:
1.Kakon, K. (2012). Enhancement of Quality in Education through Developed Pedagogical Approach in Higher Education. IJH-Indian Journal of Humanities, Volume 02, Issue 02, ISSN: 2248-9541, 83-88.
2.Nur-A Yazdani, D. M. ., Abir, T., Kakon, K. ., Waliullah, S. S. A. ., Husain, T., & Supty, S. S. A. . (2020). Factors Influencing the Usage of Broadband for the Youth and Adolescent in Bangladesh: A Cross-Sectional Study. Journal of Advanced Research in Economics and Administrative Sciences, 1(2), 14- 29. https://doi.org/10.47631/jareas.v1i2.47
3.Abir T, Osuagwu UL, Nur-A Yazdani DM, Mamun AA, Kakon K, Salamah AA, Zainol NR, Khanam M, Agho KE. Internet Use Impact on Physical Health during COVID-19 Lockdown in Bangladesh: A Web- Based Cross-Sectional Study. International Journal of Environmental Research and Public Health. 2021; 18(20):10728. https://doi.org/10.3390/ijerph182010728 (Impact Factor 2.849)
Paper under review:
1.Dewan Muhamma Nur-A Yazdani .,Kaniz Kakon., Khan Rahmat Hossain. (2021), Supply chain interruption and digital and social media implementation in business to business structure for the PPE industry during COVID-19. Kuwait Journal of Science.
2.Dewan MuhammaNur-A Yazdani., Tanvir Abir, Jamee Ahmad, Abdullah Al Mamun, Kaniz Kakon, Noor Raihani Zainol, Dr. Md. Rashidul Haque, Muhammad Mohiuddin, Abul Hasnat Milton, Dr Shasha Wang, Kingsley E. Agho (2021). How do social media addiction and emotions influence other health issues during the disaster recovery period? – The moderating role of post-COVID timing. Journal of Behavioral Addictions 3
3.Tanvir Abir, Kaniz Kakon, Abdullah Al Mamun, Noor Raihani Jainol, Kingsley E. Agho (2021). Factors influencing consumers' purchasing behavior during Covid-19 in Bangladesh.
Paper presented in Seminars/Conferences:
1.Kakon, K. (2012, February 2-3). Pedagogical Approach in Higher Education. International Conference on Quality in Higher Education. International University of Business Agriculture and Technology, Dhaka.
Book Chapter:
1.Kakon, K. (in press). Technological Adaptation in Tourism Events, Fairs and Festivals: Way to a Revolutionary Transformation in Bangladesh. In A. Hassan (ed.), Tourism Events, Festivals and Technology Application in Asia. Singapore: Springer.
Networks and memberships:
Lifetime Member of Bangladesh Philosophical Society, Activist at RCE Greater Dhaka, Mentor and Founding Advisor at IUBAT Earth Chapter, Founder and Chief Advisor at IPA—IUBAT Photography Association, Founding Advisor and Coordinator at Association of IUBAT Student Ambassador.